Chairman's Message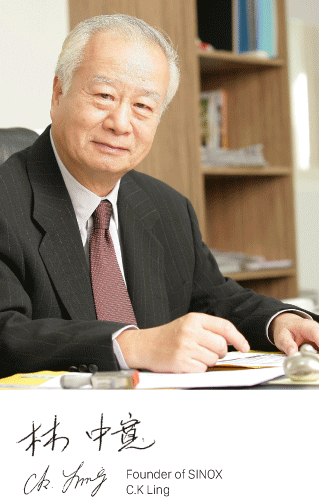 Chairman's Message
Committed to Innovation
Looking back on my life as Sinox marks its 40th anniversary, I spent the majority of my best years absorbed in combination lock R&D, production, and marketing, devoted to building a Taiwanese SMB into a global combination lock powerhouse competing on the same playing field with major international lock manufacturers. Committed to innovation and fully supported by the efforts of colleagues and vendors, we have continued to grow and improve through product development and organizational reform efforts. We are gratified and proud of these accomplishments.
From the time I founded this business I was eager to take part in research and development. This desire comes from my background in mechanical and aerospace engineering research, which instilled in me the core belief that creativity is essential to success. In spite of multiple global economic crises over the past decade or two, Sinox's research and development budget has only increased over time, never decreasing. In the vernacular of management theory, one could say that Sinox is a practitioner of Disruptive Innovation in Taiwan.
Renowned economist Joseph Alois Schumpeter first proposed this theory in 1912, positing that innovation is about constant reformation of the economic structure from within, or the continual destruction of the old along with the constant creation of new structures. Addressing Disruptive Innovation in his 1997 classic, The Innovator's Dilemma, Harvard business professor Clayton Christensen reminded businesses that innovation itself is not enough, and that only by offering something "good enough" is sustainable operation possible. Sinox's has consistently demonstrated the ability to get outside the comfort zone, making it possible to record a string of successes, anticipating market needs by imagining how customers' lives will look in the future. Products tailored to consumers' user experience - from multifunction locks, to computer locks, bicycle locks, and electronic cabinet locks - have fueled outstanding sales over the past decade.
Sinox not only puts a premium on innovation grounded in solid R&D, but has also poured considerable efforts into organizational transformation in recent years. I proposed a brand new idea, combining Sales, Industrial Design, Engineering, and Manufacturing to form the SIEM organizational structure to respond to market changes in a world colored and disrupted by digital technology, sustainable living, and destabilizing terror attacks. In Sinox's innovative organizational model, each formerly hierarchical department is re-oriented toward its unique mission and led by product managers well versed in the products and business. This boosts flexibility and speed, and helps facilitate department consensus, letting Sinox leverage the advantages of being lean and nimble with superb cost control. The power of this Taiwanese-style "disruptive innovation" has resulted in the development of over one thousand products that better meet the needs of both vendors and customers alike.
Surveying the global lock manufacturing industry, there is no lack of companies in Europe and America with over a century of history. ABUS of Germany is approaching the century mark itself, marking 97 years spanning five generations, and demonstrating that a good lock made with care and conventional artistry can stand the test of time. Even as Sinox heads into our fortieth year, in many respects we are a relatively young company. I look forward to Sinox maintaining our traditional craftsmanship and corporate culture, whilst leveraging our innovative power as we head into the next forty years.
Should you require further assistance, please fill out the following form and we will contact you shortly. Thank you!
Any comments are welcome!